Friday, May 11, 2012
Dark Shadows (2012)
Film Reviews
Films 2012
Tim Burton
Year: 2012
Region of Origin: U.S.
Rating: PG-13
Time: 113 mins
Like most Tim Burton films,
Dark Shadows
is filled with such eccentricities that can only be enjoyed by a few. The target audiences are either Burton fans, who will watch anything he comes out with or the fans of the actors. I mean Chloe Moretz in a Tim Burton film, IM IN! Guilty as charged, I fall into both of these categories. Even though the film is an adaptation of the 60's broadcast of Dark Shadows, most of the audiences were in their teens to early twenties who probably have never heard of Dark Shadows before this film. Embarrassingly, I must admit that I fell asleep. Possibly from the lack of sleep the night before or because of the sheer prolonged and unsensical happenings on screen. Which is the real reason is still unknown.
After being rejected by Barnabas Collins (Johnny Depp), servant Angelique Bouchard (Eva Green) kills his parents and the love of his life Josette DuPres (Bella Heathcote). If that wasn't enough she turns him into a vampire and buried alive for 200 years so that his suffering would never end.
This is Johnny Depp and Tim Burton's Eighth collaboration together and it feels as if Depp is evolving and Burton is just treading in the same chill pool of darkness for all these years. I mean, if it's not broken don't fix it right? Every single character that Depp has played through Burton's vision is continuously without a doubt engraved in people's mind for all of pop culture eternity. Even in this weirder than his usual character as Barnabas Collins, he speaks eloquently and as-a-matter-of-factly. Collins with his caked face and vampire gear stands out like a sore thumb in the midst of the bellbottom, long hair, and free loving hippie era of 1970's. Yet again, even though the film wasn't completely satisfactory, Depp has created a character that is worthy of remembrance.
Rather than focusing on the plot, this film was filled with quirky and memorable characters. Every single character from Chloe Moretz's teenage angsty Carolyn Stoddard to newcomer Bella Heathcote as Victoria Winters' ice cold eyes and melodic voice is a charm all in it's own. Heathcote plays both Barnabas's long lost love, Josette and Governess of the youngest Collins boy who can see ghosts, David Collins (Gulliver McGrath), Victoria Winters. The best part of Burton's films is that he discovers these diamonds in the rough types and most of them so happens to be found in Australia. Like Mia Wasikowska (Alice in Wonderland), Heathcote is Australian and won the Heath Ledger scholarship, an award set up by the actor's family after his death to give Australian actors a chance to make it in L.A. After moving to L.A. and getting a few jobs, in 2010, her manager called and said "Tim Burton saw your picture", and that was that! I don't know if it was her icy, gothic look that captivated Burton but it was her unexpectedly endearing voice that caught my attention.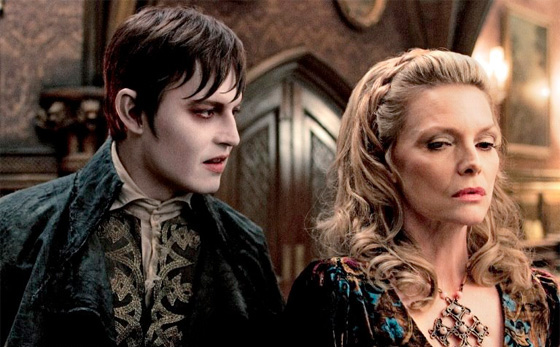 I'm also enthralled that Jackie Earle Haley (
Little Children

,

Watchmen
) was part of the Collins clan as their drunken manor caretaker. He is such an underrated actor! Everyone in
Dark Shadows
couldn't have been more better casted. No one actor overpowered another with their "superior" acting skills or whatnot. They were individually memorable and quirky in their own way. Moretz did not let me down either. Her character has Carolyn Stoddard portrayed exactly what a teenager from the 1970's would be. Despite her only being fourteen at the time of the filming, her character oozed with sexuality, angst, and rebellion. And seriously, don't get me started on Michelle Pfeiffer! I was so glad to see her in another film, it just felt so long since I last saw her in
Stardust
(2007). I can't believe she was in
New Year's Eve
(2011) either. That's pretty low Michelle, I know you can do better. She was able to show us a different side of her as sour-faced woman of the house, Elizabeth Collins Stoddard.
If the film is sliced into moment and segments, it truly shows the character's individual quality that make
Dark Shadows
so great. But put the whole picture together, the story lacks the coherent messages that films need. It gets lost halfway in the midst of Alice Cooper's performance at the Collins mansion (and the point was...?) The point was for funsies and nothing more. We get it, now get back to the story. I guess it was about 3/4 of the way through, my eyelids started to get heavy. And during the climax, something so bizarre happened, i wasn't sure if i was dreaming or not. As a Tim Burton fan, I used to go to watch his films to drown myself in his idiosyncrasies as a filmmaker. But now after
Alice in Wonderland
(2010), I go for mindless fun. Now, that's another thing I dont know if it's a good thing or not.
B